---
---
Abteihof, Einsiedeln
Shadow and Light
Clients
Kloster Einsiedeln und Bezirk Einsiedeln
Collaboration
Romero & Schaefle Architekten
The newly designed courtyard of Einsiedeln Abbey fulfils a variety of functions. It is a place of peace and quiet, but also a venue for events and a meeting place for guided tours of the monastery. The three central elements of the courtyard, designed as a modern Hortus Conclusus, are all circular in shape and are oriented towards the existing roundel: a group of scissors-grinders, a chestnut tree and a light grove in front of the governor's office.
The roundel of the scissors-grinder group was renovated in its present form and position as a closed garden with a wrought-iron fence. The old, formative trees of life, which have been extended to form a group by new plantings, stand impressively in it. A chestnut tree with a round bench wrapped around it forms the second formative element of the monastery courtyard as a solitaire. A grove of loose, small-crowned trees completes the circular trio. The grove is both a shady meeting place and a spatially structuring element of the courtyard. A seating arrangement with mobile elements offers seating for groups of visitors of different sizes.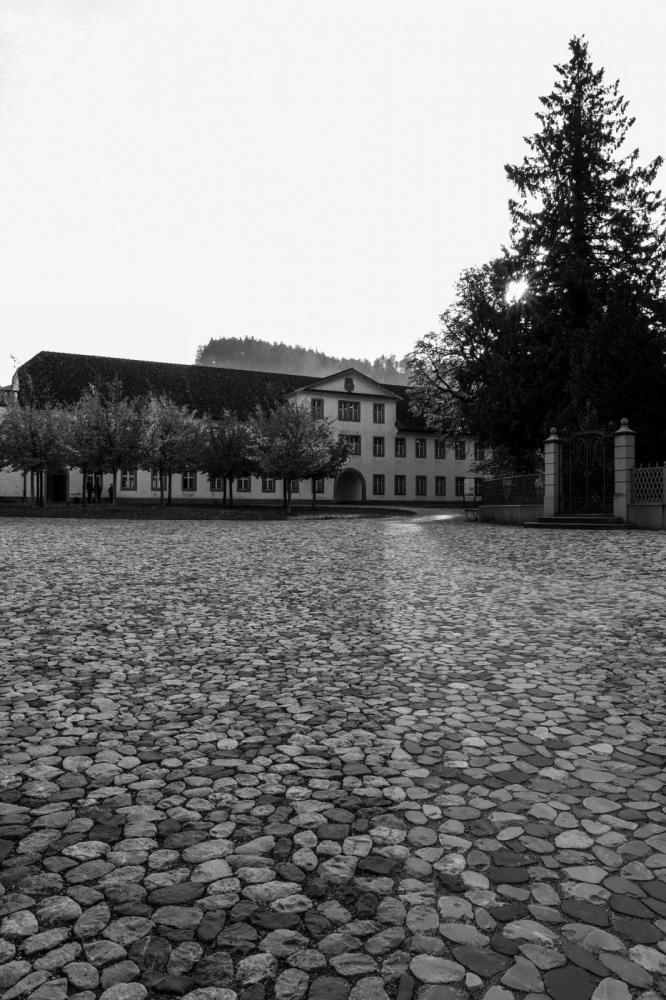 The existing paving of split river pebbles forms the basis for the design interventions. The materialisation considers the existing and consists - as is typical for river pebble paving - of different hard stones. Wherever possible, the existing material was reused.