---
---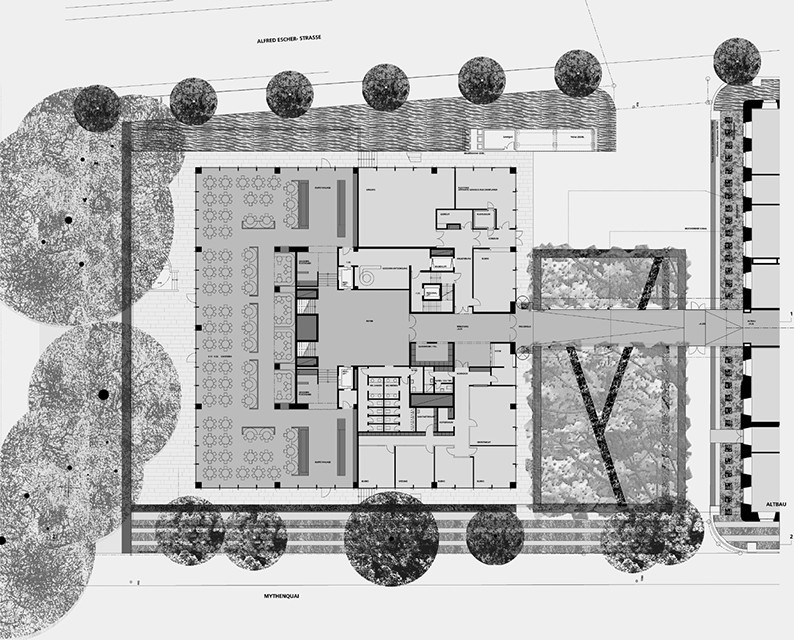 Swiss Re Club House, Zurich
Artificial Nature
Clients
Schweizerische Rückversicherungs-Gesellschaft
Collaboration
Sanierung: sam architekten + partner Zürich
The Swiss Re club house is located at the end of a row of buildings at the Swiss Re headquarters. It serves as the company cafeteria, restaurant, and a prestigious guest-house for clients.
A glassed-in passageway leads through a grove of birches. Delimited by hedges of yews and sub-planted with lilies of the valley, the staggered arrangement of the trunks of cultivated indigenous and exotic birches generate a garden space. Upon moving, beholders perceive a moiré of golden and white trunks. And while the contents of the garden are staged throughout the day, the boundaries of the space are the dominant theme throughout the night when the yew hedges are illuminated.
On the cafeteria terrace, a wall made of rammed clay evokes the picture of a cut in the earth – the colourful ribbons of different layers of soil – with the intensity of the hues varying according to the weather. The fascinating mass of rammed clay and the pleasantly cool climate it generates are quite noticeable on the terrace.
Project by Kienast Vogt Partners