---
---
© Cukrowicz Nachbaur/VOGT
Mainau 2040 Masterplan
Competition 2021, 1st Prize
27. May 2021
Together with Cukrowicz Nachbaur Architekten, VOGT wins the invited international competition "Masterplan Mainau 2040" and, as part of this, the realisation competition for the new Palm House.
The island of Mainau is geomorphologically shaped by its characteristic topography with a shore belt and plateau-like hill, which offers a magnificent panorama. As a botanical park with changing, lush flowers, a valuable arboretum and baroque palace grounds, it is considered an unmistakable place in Lake Constance and a tourist destination with a high degree of recognition. The master plan formulates the strategy for the sustainable development of the listed cultural monument Mainau. The focus is on the careful use of resources in harmony with nature.
© Cukrowicz Nachbaur/VOGT
The starting point for the concept proposal is the unique topography, the history of the site and its historical elements. The functional and utilisation areas are to be bundled in a new organising principle, further thematic locations and areas are to be generated based on the existing characteristic elements, and all parts are to be further developed into a coherent whole. The master plan simultaneously views the island radically and sensitively as a whole.
The master plan includes concepts for greened parking spaces, new path systems and visitor zones as well as functional new buildings such as a reception building, show nursery, butterfly house and a new palm house as the central architectural element on the island. The solitary building figure made of four barrel-like glass bodies, contains an event house, an exhibition house, a restaurant and a jungle playground.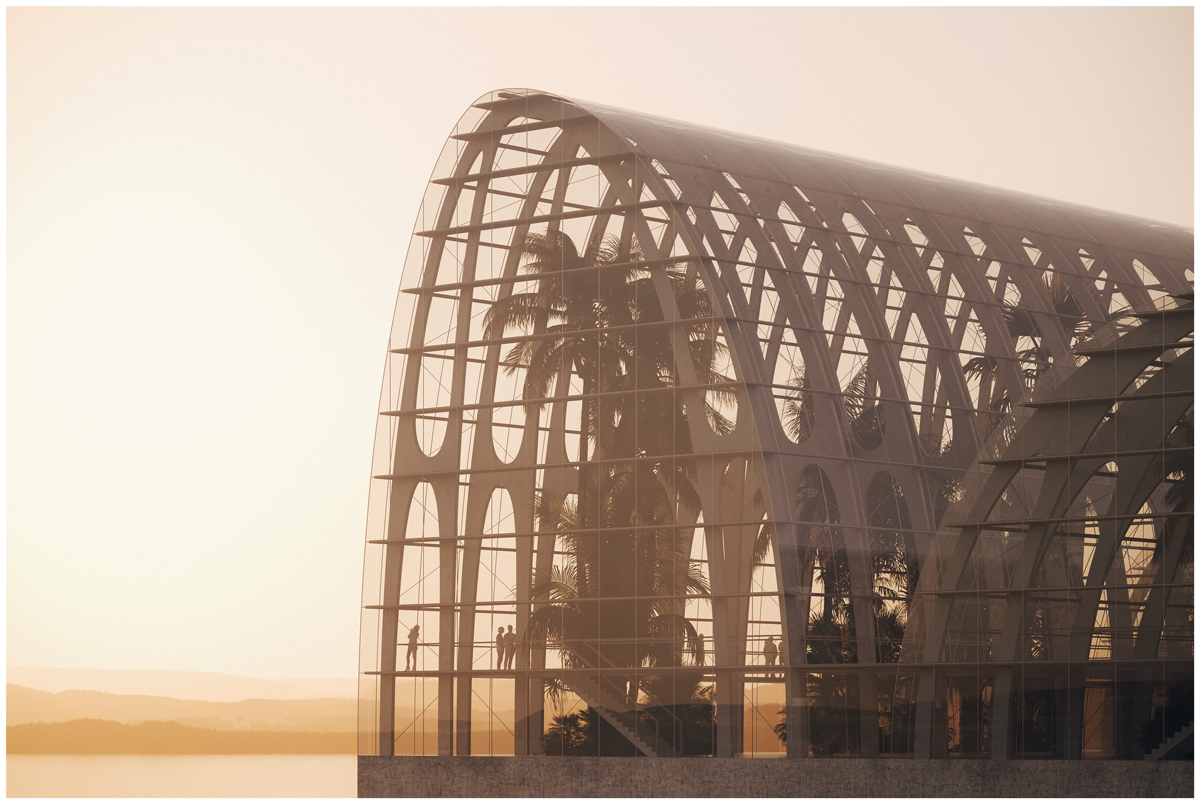 © sonaar for Cukrowicz Nachbaur
The further development of Mainau Island is not only achieved by relocating and recreating the Palm House, but also by identifying and conceptualising various "Mainau Worlds". With them, the numerous valuable features of the island's open spaces will be structured, strengthened and made more legible. Motorised traffic will be reduced in favour of micro-mobility and the additional development of various themed walks, the "Mainau routes", will enable easier orientation on the island.