---
---

Private Clinic Hohenegg, Meilen
Landscape Inlay
Clients
Privatklinik Hohenegg
Collaboration
Romero & Schaefle Architekten
With the renovation of the private clinic Hohenegg from the early 20th century the surrounding free spaces will be redesigned. Several elements and most ideas of the inital design of the garden by Rittmeyer and Furrer are still existing and visible. They are the basis for the new design. The original pavillion system, combined with spacious, well arranged gardens, is carefully integrated into the natural surroundings. The central spine has a village like feeling which is supported by the new design and character of the open spaces. To increase the impression of the site upon arrival a well balanced entrance lined by trees is of high importance to the new and improved image of this private clinic.
Several design elements such as low retaining walls constructed with natural stone, terraces overlooking the spectacular mountain scenary, flowering shrubs and neatly clipped hedges give the clinic its special charme. The close connection between inside – the clinic and gardens, and outside – agricultural landscape is a key element of the design.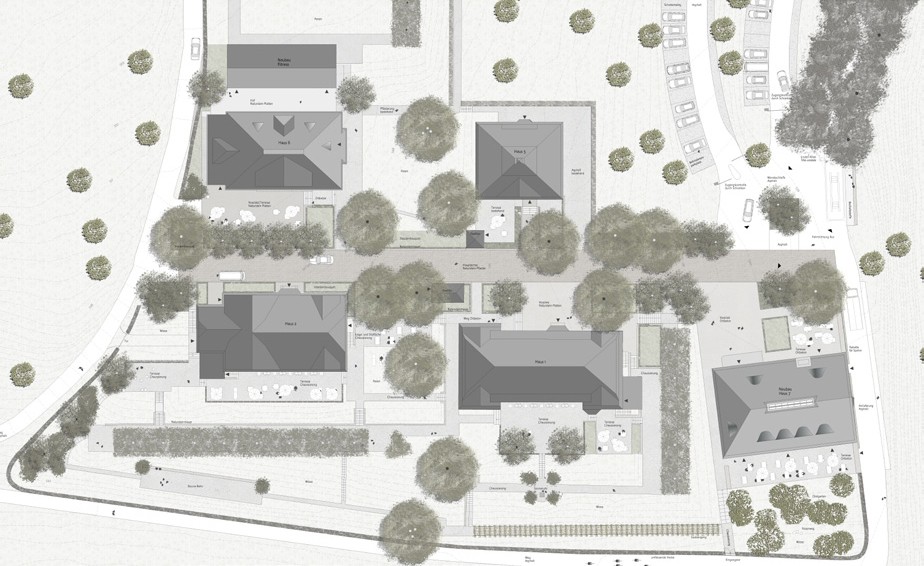 A potential expension in view of the clinic's capacity is complimented by increased pedestrian connectivity within the near and further surroundings. Essential to interweave the clinic with the ambient landscape is the creation of special spaces to engage with nature and the panoramic scenary. All these ideas were part of more detailed studies which form part of the clinic's master plan and recommend possible future steps to improve the arrangement of the Hohenegg.
Based on the continuous operation during construction and overlaps with architectural works and infrastructural improvements the contruction is staged. Complexity and changing demands result in slow and soft changes and are expected to lead further into future than the construction period stated.