---
---
School Eichmatt, Cham
School Eichmatt, Cham
Clients
Einwohnergemeinde Hünenberg, Einwohnergemeinde Cham
Collaboration
Bünzli & Courvoisier Architects Zürich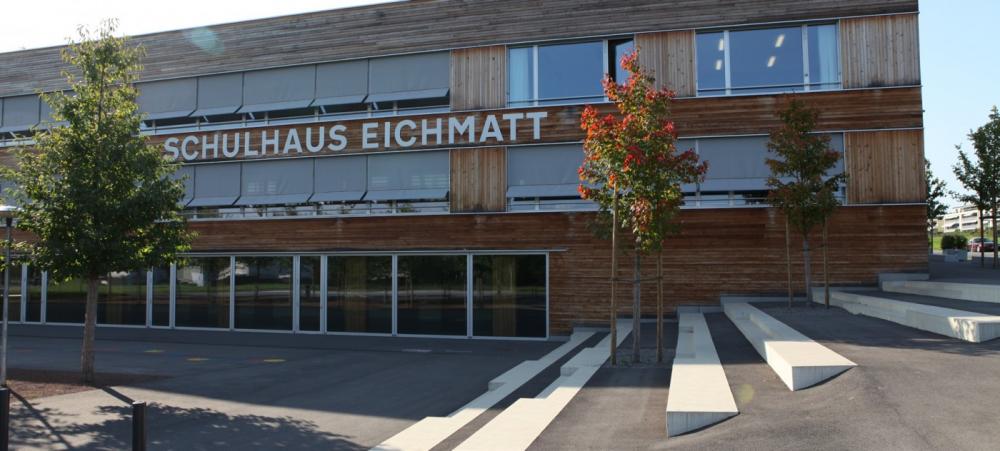 The agricultural landscape around the school of Eichmatt is characterised by rolling hills of meadows and fruit trees. To create a connection to this landscape and the nearby Huob farm, the design of the school grounds employs similar elements: Varied fruit trees and other trees with small crowns are loosely planted on undulating topography.
In front of the kindergarten, cut hedges frame gardens of differing designs, offering children spaces to hide and to explore. Espaliered fruit trees separate one area from another and demarcate the boundary of the adjoining caretaker's garden. The sports fields are also framed by aligned trees, which collectively create a volume correlating to the schoolhouse. Sitting walls bridge the topographical level differences between fields and building, and above the grass sports field, an additional grass slope offers possibilities for sitting and watching.
The school yard, related to the upper entrance to the building, forms a slightly declined plane towards the open orchard meadow. A gazebo next to the hard court is a focal point and offers shelter for incidences of bad weather. A multi-purpose surface allows for various uses - here children can draw with crayons, run, jump, and skate. Seating possibilities are also provided for breaks and outside lessons.
On the eastern side of the schoolhouse, a forecourt with a dense cherry grove can be used not only by pupils and teachers but also by residents. By these various means, the school ground is integrated within its surrounding and becomes part of it.