---
---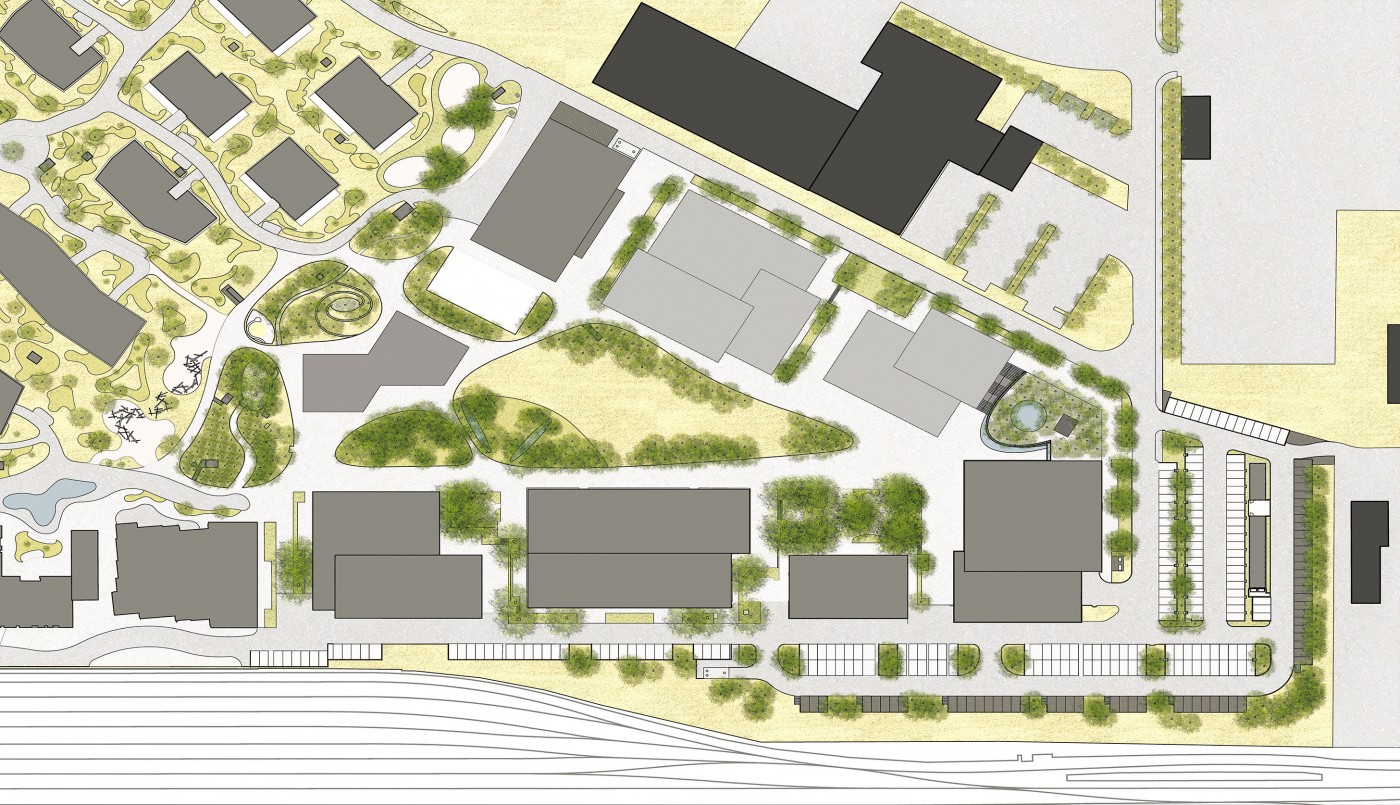 Suurstoffi East, Rotkreuz
The Green Centre
Collaboration
Bob Gysin + Partner; Burkhard Meyer; Ramser Schmid Architekten, Pasquale Baurealisation; Zanoni Architekten; Wismer und Part
In contrast to metropolitan areas, development of the pre-alpine regions has been rather calm and quiet over recent decades. A substantially improved transport infrastructure indicates a strong trend towards urbanization. The Risch-Rotkreuz municipality benefits from its location on a highway and railway junction between Zurich/Zug, Lucerne and Schwyz, as well as its position on the pre-alpine lakes. At the Suurstoffi district, exemplary rapid development can be observed.
The open space concept follows connection with and continuation of the existing system's basic principles, but with typological and design advances. The main elements of the open space are the central square and the city gardens. The square will become the heart of the neighbourhood, as in traditional English Squares. Such open urban spaces provide both a high degree of movement area along the buildings for slow traffic while offering high-quality vegetative density in the centre of the square in which many relaxation and play areas are embedded.
The entrances into the neighbourhood are multi-functional. Furthermore, they provide a sense of orientation with a sufficient degree of design and other elements for recognition for the district. They serve as access to buildings, provide delivery and rescue routes, and allow car and bicycle parking. Addresses here are respectable, with a sufficient degree of design and other elements for recognition for the district. All these aspects are bundled into the hedged city garden. They become flexible elements ensuring continuity within the site's typology, while establishing a clear design framework. It remains versatile in usability and shaping, and adaptable to the still partially undefined purposes for the ground floor.
Defining the character of the outdoor area are the great varieties of vegetation, and water. With park-like single trees, tree groves, large crocus fields and lush herbaceous plantings, the vegetation of the centre has the character of a generous park, while the city gardens' precisely cut hedges and small trees create an urban image of efficiently-used garden zones. The junglesque element refers to the specific natural history of the place; marsh cypresses, dogwoods, magnolias, redwoods and ferns. The vegetation's complexity is overlaid with rich water phenomena – a cloud stage, mists, dripping mossy walls, and even the sound of falling water. These elements refer to the lake that was originally located here, as does the sustainable use of the rainwater throughout the neighbourhood.