---
---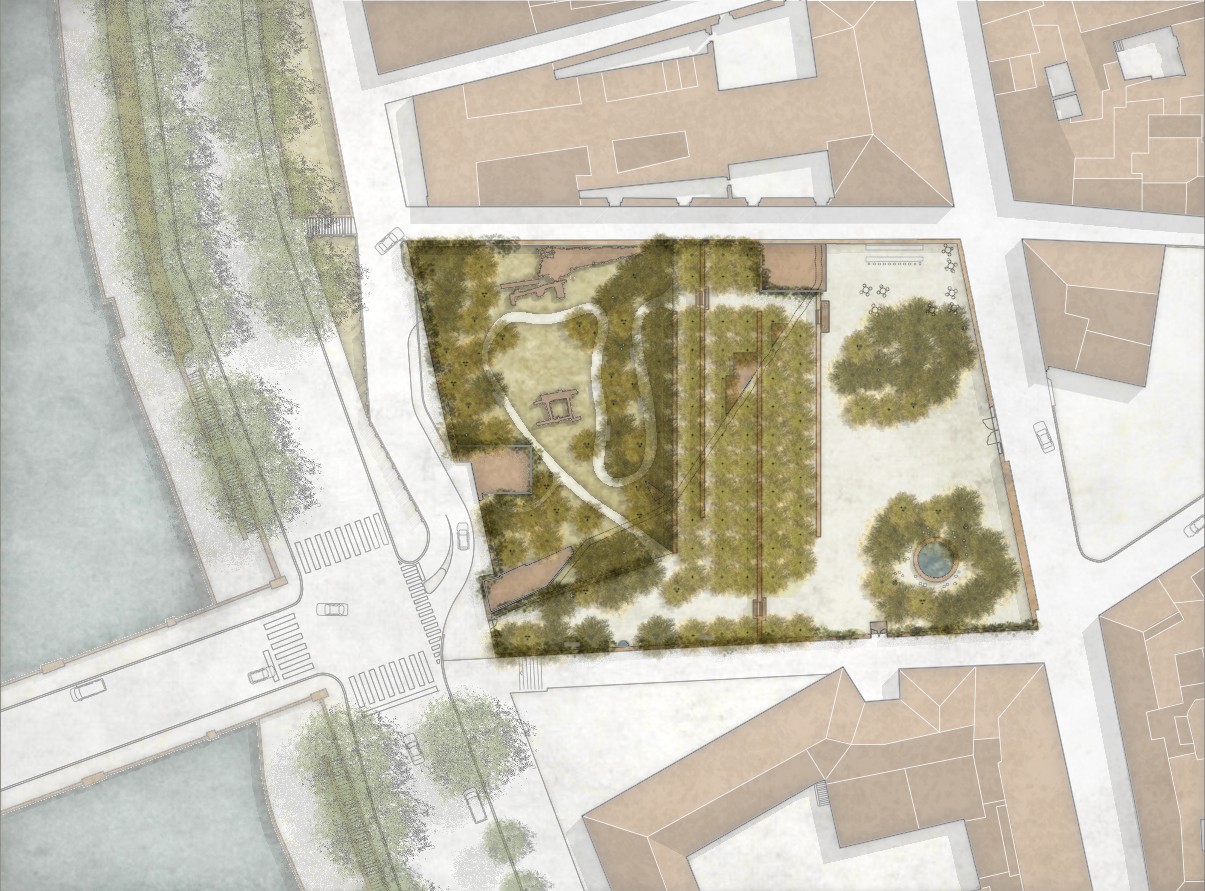 Via Giulia, Rome
Pairi Daeza
Clients
CAM Edilizia – CAM. S.r.l., Rom
A new "Pairi Daeza", or paradise garden, on Rome's Via Giulia, invites locals and visitors to enjoy a lush urban space. Partly neglected, with water basins full of plants, overgrown with old trees and vines, it seems to have been there for centuries, forgotten. It could be an old garden, following the tradition of Roman aristocratic villa gardens, visible on the maps of the city: some of them rediscovered and accessible to local residents and visitors alike. Reminiscent of the quieter areas of the nearby Farnese Gardens or the remote parts of the park at Villa Borghese, this garden has both an internal and an external narrative.
From the outside, it is an elusive world separated from the busy, hot city, containing the promise of lush vegetation, shade, and quietude. Large tree canopies reach over the wall to the street, while climbers and ramblers seem to be escaping from the garden and create a dialogue with the Farnese Gardens. The tall trees on Via Giulia help restore the street by continuing the line of building facades.
Inside the wall, the garden reveals itself as vibrant and diverse. It is organized on three levels: the atrio giardino, frutteto, and giardino segreto. The atrio is located on the same level as Via Giulia, and its large water basin acts as a central gathering place for the whole neighborhood. The frutteto on the intermediate level forms the transition between the atrio and the giardino segreto. It resembles an ancient limonaia, a terraced garden used to grow citrus trees for fruit production and to convey a sense of prestige. Slightly shaded by pine trees, this part refers to the tradition of agricultural fruit cultivation in historical villa gardens. Instead of lemons, the orchard comprises rows of fruiters of different kinds and invites the visitor to pick an apple, sit in the shade, and listen to the gentle sound of water trickling in the fountain. Finally, on the highest part of the site stands the secret garden, where a mix of trees, climbers, and bushes seems to surround ancient ruins. Built partly on a new car park and partly on a 2000-year-old stable, the garden forms a new layer in the urban geology of Rome.