---
---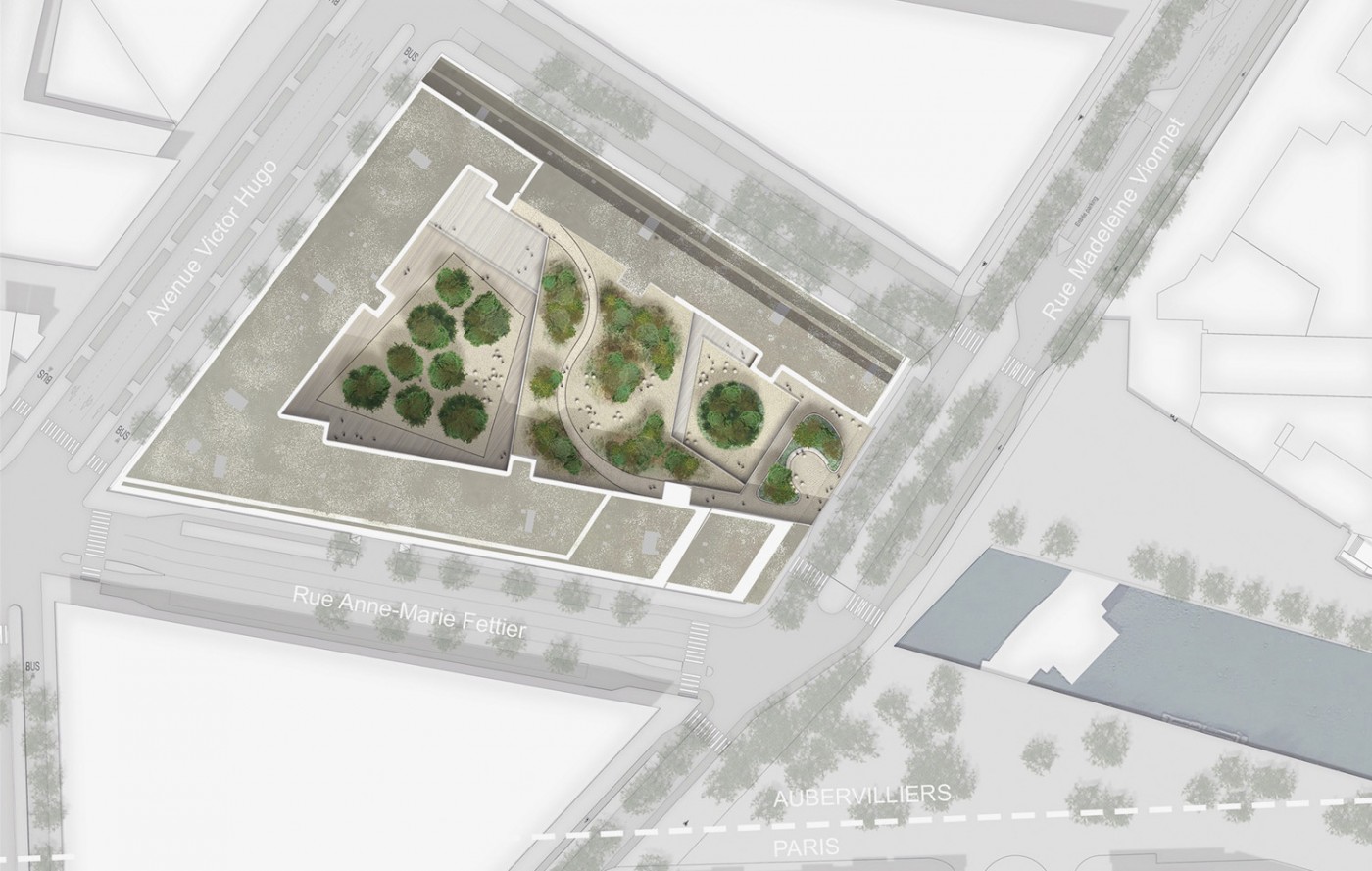 Veolia Headquarters, Aubervilliers
Overlooking the City
Collaboration
Dietmar Feichtinger Architectes, Paris
Veolia's new headquarters are located on the northern edge of Paris, where remnants of an industrial past are in close proximity to an increasing built density. The suburb comprises coarsely juxtaposed warehouses from the textile trade, precarious housing, wasteland, a shopping center, and new offices. Here, the U-shaped building opens out onto the Aubervilliers Basin, an offshoot of the Canal Saint Denis. This strong relationship forms the foundation of the project, linking the interior landscape of the building to an urban horizon.
A succession of courtyards at multiple levels articulate and mediate the scale of the building. Recessed, shaded, and sheltered spaces alternate with the open and dominant high spaces. The play of plant masses, materiality, and topography generates areas that respond to differentiated building programs.
In the courtyards below street level, a small forest of birch, poplar, and pine grows on both sides of the cafeteria pavilion. Gravel paths wind between mounded and hollowed islands, where a vegetation of undergrowth thrives. These gardens are a shaded and quiet inner world where one can get lost, away from the activities of the city.

On the first-floor terrace, in the heart of the building, a sunny clearing overhangs these wooded patios. Surrounding a meandering path, areas of mounded gravel and shade-giving trees provide various types of encounter spaces. The gradual swelling in topography is emphasized by larger boulders which become eroded to a fine grain in the concrete path.
At the end of the sequence—referring to Le Nôtre's terraces in Meudon or Saint-Germain-en-Laye— the belvedere is suspended high up, overlooking the canal. The space is inhabited by a monumental stone bench housing a miniature landscape. Its wide, sinuous curve, embracing the horizon, invites visitors to engage in social interaction or to quietly sit by themselves.
The search for the right stone and the same texture and color shades for each space was at the heart of the realization process. The bench and pavement are crafted from a yellow granite extracted in Portugal and sculpted at the quarry. Its warm hues reflect the color of the river gravel used in the gardens below; they also harmonize with the lines of the facade. Exploiting the evocative power of materiality, the use of granite also bridges the belvedere and its urban horizon, transporting visitors closer to the city in the distance.